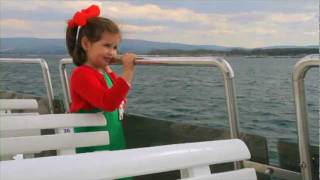 O Grove is south of the Ría de Arousa, which joins with the Ría de Pontevedra. It is 21 km2 and has a population of 11,500, settled in various villages.
It is made up by an island and a peninsula, the flat terrain being altered only by groups of granite rocks forming high points, the most prominent being the "con de A Sirabdella", to the east, with an altitude of 166m. The isthmus (narrow strip of land) is a sandy spit 2 km long + ½ km wide in the centre, and was recently formed. In old maps, O'Grove appears to be an island.
The average temperature in winter is 14 ºc and 24ºc in the summer, and a strong precipitation from April to September, however the rainiest months are November, December, January and March, in which we register most of the 1.000m.m annual precipitations in the municipality.
---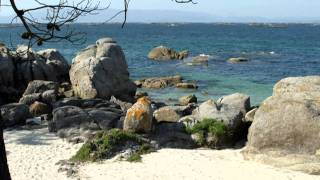 Being surrounded by an exceptionally abundant sea, it is not surprising that it's exploitation is the main economic activity. Small fishing boats work full-time catching fish, and shellfish, mostly whiting, horse mackerel, pollack, turbot, cuttlefish, spider crab, shrimps and lobsters. There is a plentiful and continuous supply of shellfish, especially clams, cockles and razor-fish which are collected at low-tide in the traditional way by an 'army' of women equipped with rakes and small hoes.
Alongside the traditional harvesting of the shellfish, the cultivation of the mussels and oyster beds has had an enormous economic effect on the area..
The fishing and shellfish produce is sold in the market, located in the port of O Grove it is well worth a visit.
Around the coast you will find other important industries like construction, canned food industry and tourism, of which O Grove and Sanxenxo are the most important in Galicia.
Celebrations in O Grove:
Virgin of the Carmen, around the 16th July, great devotion between the people of the sea, four day party, with marine processions of fishing boats, with fireworks, parties, traditional local performances, etc
Celebration of the seafood in the middle of October (of Saturday previous to the later Sunday of the Virgin of Pilar) declared of National Tourist Interest, which has been celebrated since 1963. During nine days you can try all the seafood available from the rivers in the restaurants and other places in the port, at a low price and with many local performances.
Our Lady of A Lanzada: last Sunday in August, full celebration of magic with its ritual bath of the nine waves for the fecundity.
Other celebrations in localities near O Grove
Our Lady of the Heads, in the Monastery of Armenteira (20 km.)Easter Monday .
Raia Party in Portonovo (13 km.) Friday, Saturday and Sunday of Easter.
Muiñeira day, in Pontevedra (35 km.) last Saturday in May.
Wine Party of O Salnés, in Barrantes (21 km.) first Saturday in June.
Saint John. Cacharelas (bonfires) everywhere, with roasted fish and potatoes. Special Interest on Poio's bonfire (30 km.) 23rd and 24th June
Solla Party, in Catoira (43 km.) Before the second Sunday in July.
Clam Party, in Carril (36 km.) Sunday previous to the 16th July.
San Benitiño, in Lérez (Pontevedra) (37 km). National Tourist Interest. 11th July.
Callos party, in Mosteiro-Meis (23 km.) Sunday nearest of 11th July.
Albariño Wine party, in Cambados (22 km.) of Tourist Interest. First Sunday in August.
Vikingo's party in Catoira (43 km.) of Tourist Interest. The first Sunday of August.
Mejillón party in Vilanova de Arousa (28 km). first Sunday in August.
Peregrina parties, in Pontevedra (35 km.) Mid August.
San Roque party, in Villagarcía de Arousa (33 km.) 16th August
San Roque party, in Combarro (28 km.) 16th August
Day of the Tourist, in Sanxenxo (15 km.) 25th August.
Ostra party, in the hermitage of Our Lady of A Lanzada (9 km.) Sunday before August.
Clam party, in Campelo-Poio (33Km.) The third Sunday of August.
Tour of Marine by the virgin of Carmen, in the Island of Arousa (33 km.) 1st September.
Santa Rosalía, in Sanxenxo (15 km.) from 3rd to 5th September.
Our Lady of La Merced, in San Juan de Poio (32 km.) 24th September.
Party of San Simón de Baión, in Vilanova de Arousa (28 km.) from 28th to 30th October.
Flea Markets:
MONDAY Sanxenxo / Pontonovo
TUESDAY Vilagarcía / Combarro
WEDNESDAY Cambados / Valença do Miño
THURSDAY Portonovo / Sanxenxo
FRIDAY O Grove / Vilanova
SATURDAY Vilagarcía / Cambados / A Illa
SUNDAY Padrón
Pontevedra: 1st , 8th , 23rd of every month
La Piedra (Vigo): Every day until 2p.m.
Meaño: 1st and 3rd Sunday of month
Meis: 2nd and 4th Saturday of month